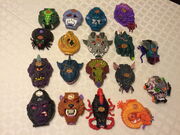 Doom Zones (or occasionally Doom Stones) are miniature playsets which feature several figurines and an adventure theme. They are the most common of Mighty Max playsets, and were always packaged along with a mini comic story.
Later Doom Zones were packaged with a Dread Head or a Norman figure. There are also several color variants of some Doom Zones.
List of Doom Zones
Edit
These were prototypes for the aborted Mighty Max: Into the Battle Zone series. They were referred to as "Battle Zones" in a pictorial SKU list, but mostly follow the same format as Doom Zones.[1]
References
Edit