Welcome to the Mighty Max Wiki, your one-stop source for information on the Mighty Max franchise.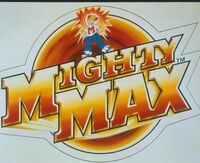 Mighty Max is a toyline from the 1990s which features a young boy named Max and his adventures to battle the evil Skullmaster. With his allies Norman and Virgil, Max must conquer his way through the Skullmaster's minions and save the world from plunging into a state of chaos and evil! The toyline gave rise to a cartoon series, alongside other tie-ins.
Max's Dad left him his old baseball cap. Trouble was, this was no ordinary baseball cap..."Gotta look the business" Max thought as he tweaked the cap's peak round to the side. "AAAARGH!" Suddenly, the world had gone weird and very unfriendly! The cap had changed colour! Something very strange was going on! He'd been caught in the Horror Zone. Stumbling from one terrifying adventure to another with only cryptic clues to help him escape...he was all alone. He was scared. But he was MIGHTY MAX, and he'd get back somehow!
Community content is available under
CC-BY-SA
unless otherwise noted.